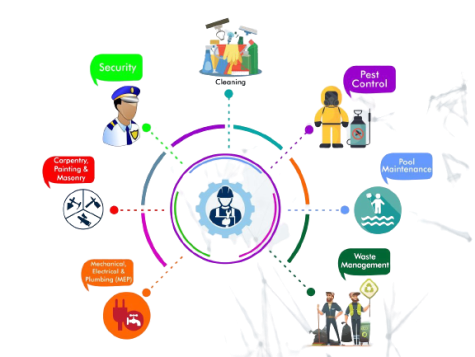 Facility Management Services
Catering satisfied services to your customers
Facility management is a profession that encompasses multiple disciplines to ensure functionality of the built environment by integrating people, place, process and technology. Facilities management system that works together with your business and allows day-to-day management of the processes, automates operations, provides a management dashboard for critical analysis and enables enterprise wide control in the most intelligent and efficient way.
Who we are in Facility Management?
Our Integrated Facilities Management teams consistently increase the productivity of your real estate portfolio by reducing costs, minimizing risk and increasing end-user satisfaction. We drive continuous improvement by harnessing our experience and expertise to bring new ideas and market intelligence to the table. Because we customize our model to suit your needs, we enable you to respond to changing business requirements and give you confidence in achieving your desired outcomes by backing our ability to deliver results.
Facilitycloud: An Atm Facility Management App
FacilityCloud's ATM facility management module helps small and medium ATM facility service providers with complete suite of tech tools to help ensuring high availability, improved customer satisfaction and increased Return On Investment (ROI).